ALZO NEWS – November 2019

ALZO'S QUALITY UPDATE
Alzo International has named Teresa Tripolitis as its Quality Systems Administrator. She will be responsible for overseeing the company's extensive documentation systems designed to maintain quality, safety and compliance and to ensure the efficient operation of Alzo's Quality Management programs and initiatives.

REGULATORY UPDATE:  REACh
Alzo has registered over 40 substances for REACh. Please contact your local Alzo sales representative or distributor regarding any questions you may regarding REACh and Alzo products.

NEW ALZO PRODUCTS BROCHURE
The Sensory Creations for Hair Care brochure features Alzo products such as Dermol SLLC-L, Necon LO-80, Nequat DBS and Polyderm PPI-SA. These specialty ingredients help clarify, condition and protect treated and untreated hair in shampoo and conditioners and prolong hair color even after several washings. The series of Dermothix polymers function as novel thickeners, rheology modifiers and gelling agents that are stable in surfactant formulations ranging from pH 2-12 and offer distinct advantages over other traditional thickeners such as carbomers. Download the brochure here.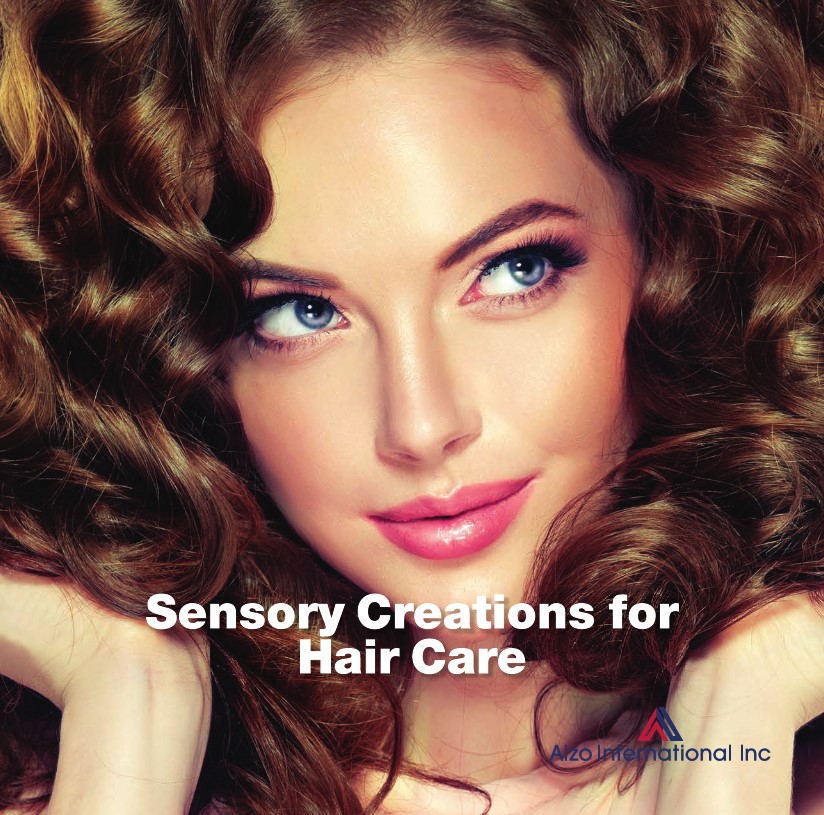 Brilliant Creations for Sun Care focuses on Alzo ingredients that help improve the performance of sunscreen formulations. Dermothix 100, as the sole emulsifier, is shown in vivo testing to increase the SPF of both organic and inorganic emulsions rather significantly. The self-leveling property of Dermothix 100 results in a homogeneous film contributing to the increased protection when compared to TEA/Carbomer systems. The widely used Elefac I-205 helps improve sunscreen performance due to its outstanding solubilizing of organic UV filters and its pigment wetting of inorganic actives.   Alzo's range of benzoate and salicylate esters all have high refractive indices which help clarify and improve the solvency of sunscreen actives. A cold process sprayable emollient milk formula with an SPF 4 featuring the combination of Cupl PIC and Hetester PHA emulsifiers is shown to be an excellent way to produce stable low viscosity and low temperature sunscreen products. Download the brochure here.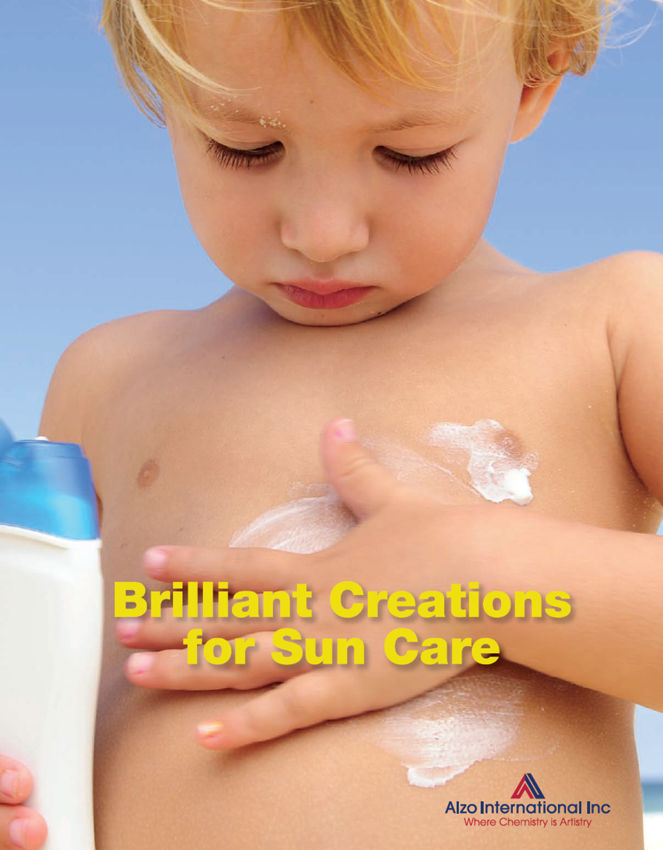 SILICONE ALTERANTIVES
Alzo offers several emollient esters as alternatives to volatile and non-volatile siloxanes.
Dermol DCC, Dicaprylyl Carbonate is light, dry emollient ester that provides exceptional skin conditioning in personal care formulations. Its fast spreading property leaves a silky, velvety after feel and is an ideal choice for leave-on moisturizers and treatment products as well as in rinse off products such as cleansers and wipes.  Its most popular use is as an outstanding solubilizer for organic sunscreens and as a pigment dispersant for inorganic UV filters. Dermol DCC is an excellent option for non-silicone systems and is REACh and China compliant. Download the solutions Sell Sheet here.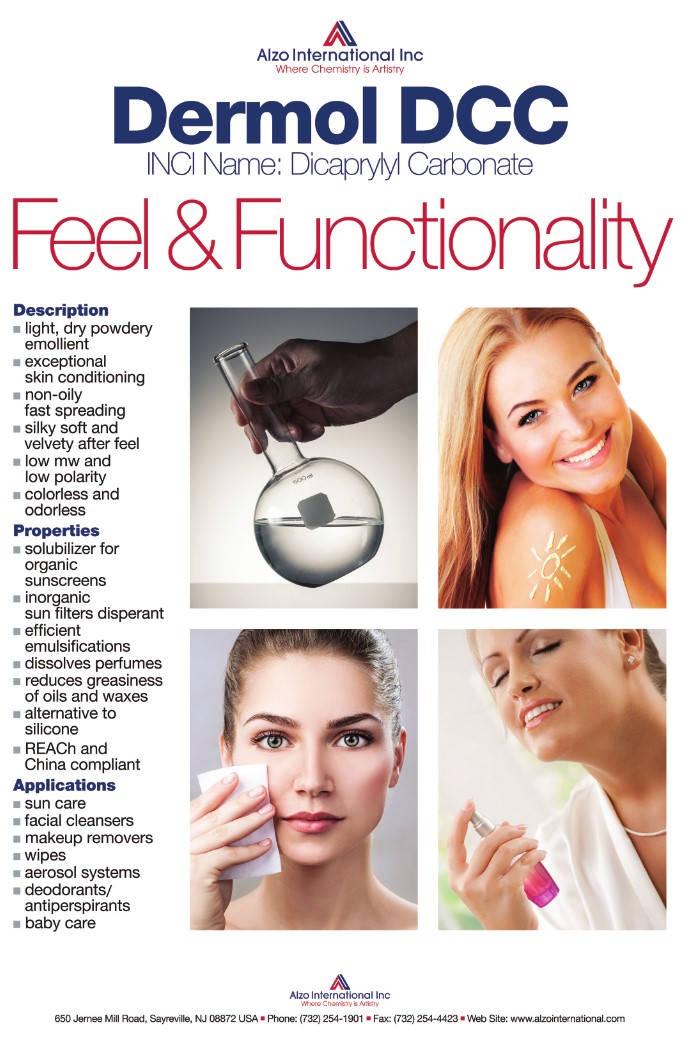 Dermol CCAP, Coco Caprylate is also a light ester derived from natural feedstocks that adds an exceptional velvety after feel. It is fast spreading and helps reduce the greasiness of oils and waxes. Its fast absorbing property mimics the quick drying property of volatile silicones. Dermol CO-CA, Coco Caprylate/Caprate offers a medium skin feel with excellent slip and spreading properties. It is an excellent replacement for dimethicone fluids and also adds outstanding shine and lubricity to hair. Both Dermol CCAP and Dermol CO-CA are excellent pigment wetters, China compliant and meet the ISO 16128 standard as being 100% naturally derived. Download the solutions Sell Sheet here.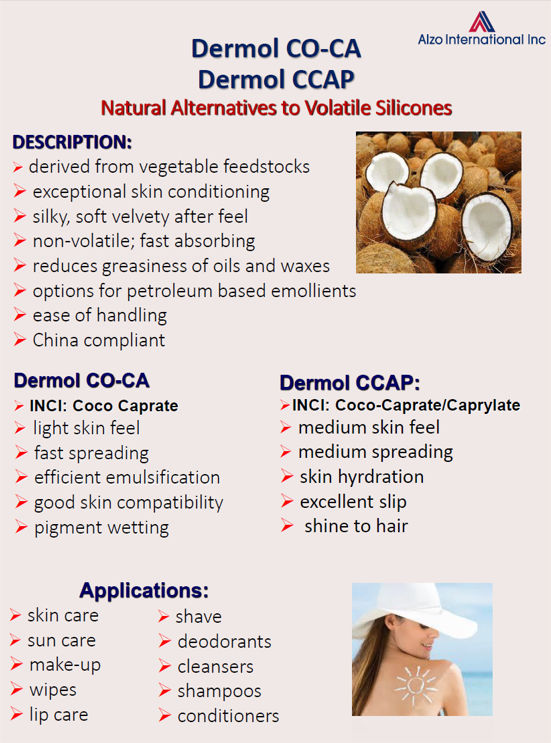 ALZO INDUSTRY HAPPENINGS
Look for Alzo at the following events in 2019:
April 2019 – In Cosmetics Global – Paris
May 2019 – NYSCC Suppliers Day – New York City
September 2019 – Florida Sunscreen Symposium - Orlando
October 2019 – California Suppliers Day – Long Beach
October 2019 – In Cosmetics North America – New York City
November 2019 – SCS Formulate – Coventry, UK

PERSONNEL PROMOTIONS
Congratulations to Evan Carlo who was promoted to Plant Operator.

WELCOME ABOARD
Alzo welcomes the newest additions to our growing company:
Mike LaMura – Plant Engineer
Bob Fish – Shipping/Receiving
Andrea Rodriguez – Quality Control Technician
Niko Makino – Sample Technician
Ben Casablanca – Operator
Justin Salting – Operator
Irene Jewusiak – Customer Service Representative