ALZO NEWS – March 2018

ALZO'S QUALITY UPDATE
Alzo International received its ISO 9001:2008 recertification and continues preparing for its transition to ISO 9001:2015 scheduled for April 2018.  Alzo will be looking to implement the framework established by European Federation for Cosmetic Ingredients (EFfCI ) that is said to match the spirit of European cosmetics directives and the future cosmetic product GMP. This will be practical tool for facilitating quality and traceability process connections between ingredient producers such as Alzo International and our cosmetic manufacturing customers.

REGULATORY UPDATE:  REACh - ARE YOU READY? WE ARE
The final deadline for REACh registrations is May 30, 2018. After this date all cosmetic substances sold into the EU 1000 kilos and over must be registered. Alzo through its Only Representative is in the process of registering all its key products sold into this key region to meet the ongoing needs of its EU customers and distributors. Please contact your local Alzo sales representative or distributor regarding any questions you may regarding REACh and Alzo products.

Dermol MBDD, A NATURAL POLMERIC ESTER
To satisfy the growing need and interest in natural ingredients Alzo developed a unique emollient derived from Mango Butter and rapeseed oil. The INCI is Mango Butter Dilinoleyl Ester/Dimer Dilinoleate Copolymer. The product provides outstanding shine, adhesion and water resistance for use in lip, eye and makeup as well as in various skin care formulations. Contact you local Alzo representative for samples and information about this natural and multifunctional polymer.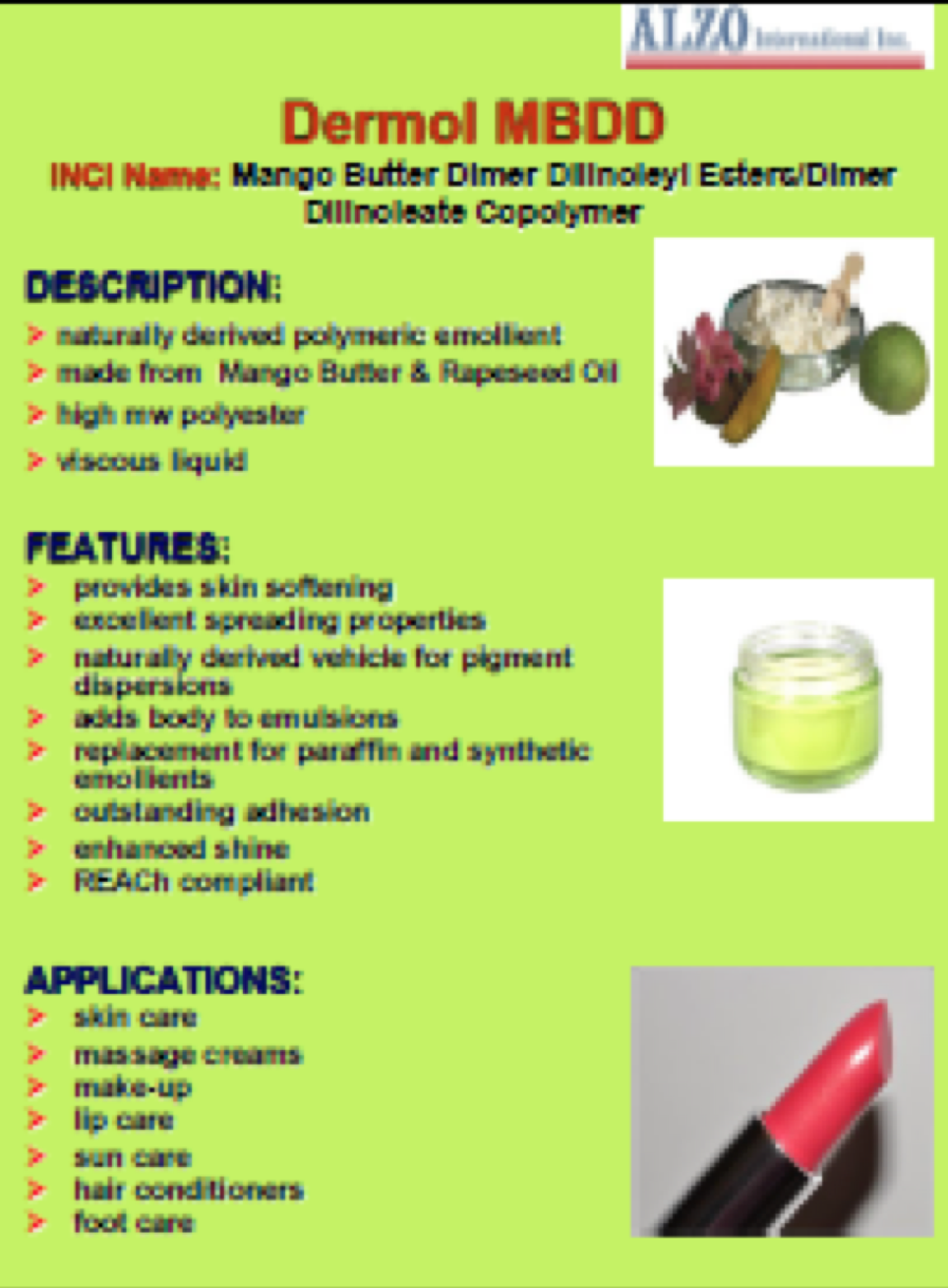 DERMOL SLLC-L, A NATURAL MULTIFUNCTIONAL INGREDIENT is now COSMOS APPROVED!
Alzo's Dermol SLLC-L, Sodium Lauroyl Lactylate in the unique liquid form is now approved by Cosmos. The new Dermol SLLC-L brochure is available and can be downloaded from the Alzo website. It highlights the unique benefits of Sodium Lauroyl Lactylate, a vegetable derived 100% actives, and sulfate-free and soap-free alternative surfactant in a unique and easy-to-use liquid form. It produces rich, luxurious and copious foam for use in body washes, shampoos, liquid and bar soaps, and cleansers. The antimicrobial functionality of Dermol SLLC-L meets USP Category 2 requirements for reduction for bacteria. Recent testing by an independent lab confirmed that Dermol SLLC-L is biodegradable. Samples and literature are available from Alzo or your Alzo sales representative.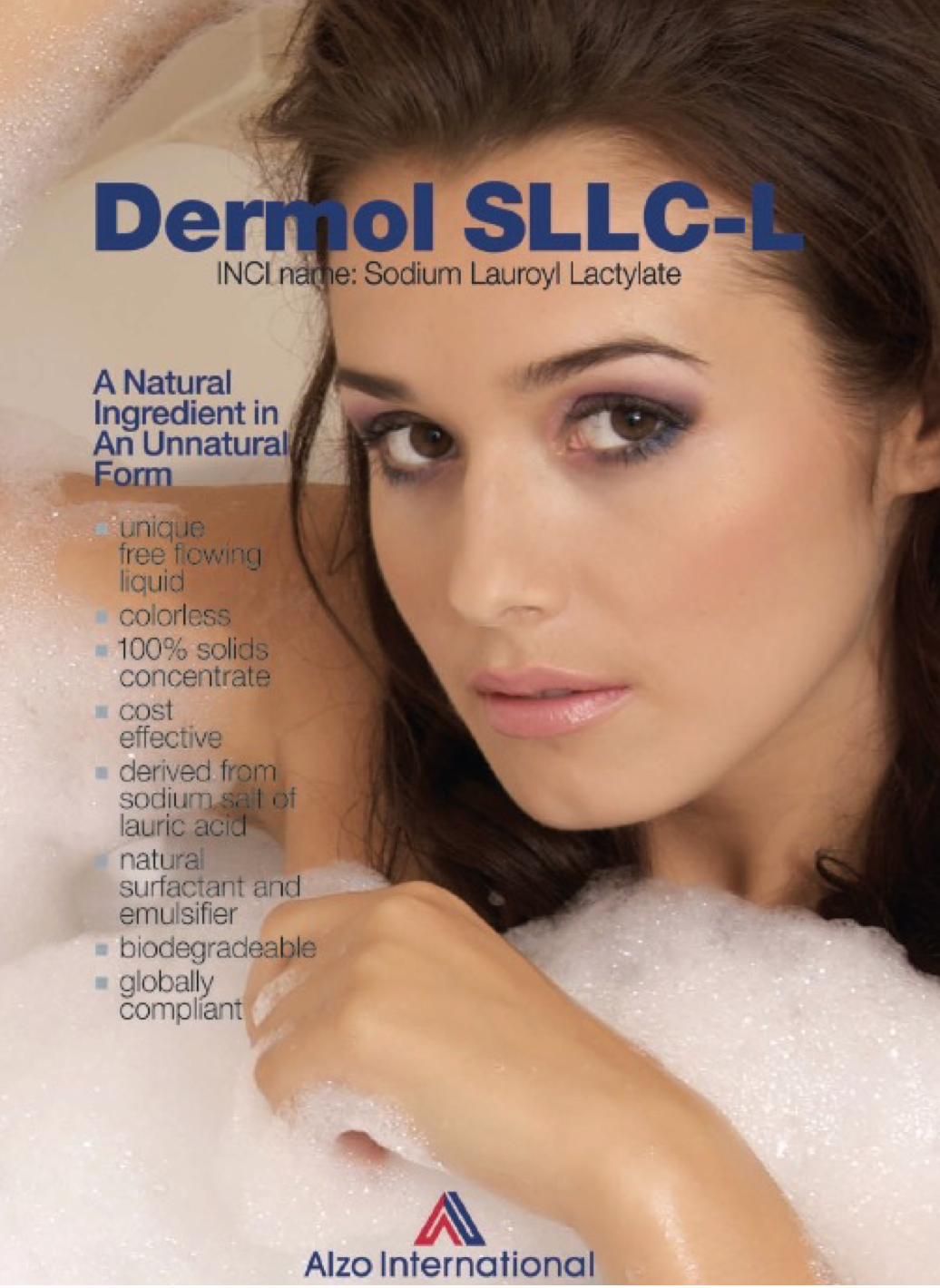 ALZO INDUSTRY HAPPENINGS
Look for Alzo at the following events in 2018:
March 2018 -  China PCHI Exhibition -  Shanghai
April 2018 - Midwest SCC Teamworks - Chicago
April 2018 -  In Cosmetics Global - Amsterdam
May 2018 - Suppliers Day - New York City
September 2018 - Southwest SCC Suppliers Day - Dallas
October 2018, - In Cosmetic North America - New York City
November 2018 - SCS Formulate - Coventry, UK

MEET DR. FAITH CORBO, ALZO'S NEW ACCOUNT MANAGER
We are pleased to announce the addition of Faith Corbo as Accoiunt Manager. She will be responsible for servicing Alzo customers in the Northeast region. Faith comes to Alzo with a strong background in product development, formulation and raw material evaluation having worked for multinational finished goods companies as well as ingredient suppliers. She can be reached by email at This email address is being protected from spambots. You need JavaScript enabled to view it..